Does your PC freeze while you are high with your fav Battle Royale? Does Fortnite keep crashing every time you slam the play button hard? Are you losing in the middle of battles now and then?
Yes, there was a time I had exactly the same complaints because Fortnite used to crash frequently despite my having a high-end graphics card with a decent gaming setup.
I dug out all the gaming forums, guides, and manuals — everywhere in search of a fix. Tried all their methods. Diagnosed my hardware system. Did every possible Check. 
Lastly, I found some ways that helped me get rid of the Fortnite crashing issue. I have shared fixes one by one below, exclusively for you.
Let's have a read to find out the way that can fix your Fortnite from crashing.
Why does your Fortnite keep crashing?
As Fortnite became an incredibly popular gaming platform, the number of players for its free-to-play mode Royale Battle and Save The World both surged up.
Although Epic Games, the developer of your favorite Fortnite, has some robust server infrastructure, technical bugs sometimes hunt down them, and thus, the games crash. Broken updates, too, cause this issue sometimes.
However, the most common reasons for crashes are–faults and configuration errors on your local PC. These issues can be fixed quickly when you understand the root cause.
The possible reasons that make Fortnite crash on your PC can be various–malfunctioned GPU, faults in temperature controlling sensors, overclocking, missing drivers, and other similar.
So, here is all about how you can fix Fortnite when it keeps crashing repeatedly.
Solution 1: Check For Updates 
Often broken software upgrades and windows updates mess up the existing driver installations in your PC. Also, Fortnite releases updates frequently to fix the bugs reported from its previous versions. So, make sure all your software and windows are getting regular updates.
Steps for the fix:
Go to Windows Settings 
Search for Update and Security and select Check for updates
Now, for graphics drivers, you need to go to the official websites of NVIDIA and AMD, depending on your card. Check here for any latest updates.
Lastly, look at Epic games for possible new updates to Fortnite games.
Epic Games uses its Twitter handle to share newsflash about upcoming bug fixes, patches, and version updates for your Fortnite. Keep track of Epic Games' social media handles.
Move on to the next solution if this doesn't work for you.
Solution 2: Change The Current Fortnite Graphics Settings
When the graphics settings are misconfigured with the ideal settings required for a smooth gaming experience, this results in crashes.
For this, you need to look into the existing Fortnite graphics settings.
Open Fortnite and navigate to the Game settings
Choose Video and reduce Quality by one step.
Save and see whether the crash appears or not.
Going below Medium settings for Shadows and resolutions serves no purpose because the result will then be unstable. 
So, try your different hands-on resolutions, save each time, and set the best suitable resolution. When playing with different resolutions even doesn't fix the Fortnite crashing issue, you can try troubleshooting BattleEye. I have shared it next.
Solution 3: Uninstall & Reinstall Battleye
BattlEye sometimes conflicts with the existing registry system on your PC. Reinstalling has been shown to resolve the Fortnite crashing issue.
Steps to reinstall BattlEye:
Navigate to the Installation directory of Fortnite.
Move to \Fortnite\FortniteGame\Binaries\Win64\BattleEye
Run Uninstall_BattlEye.bat
Reboot your PC
Now, from the same folder, run Install_BattlEye.bat
Voila! Your Fortnite is no more crashing. Yes, this is one of the commonest fixes for Fortnite crashes frequently.
Sale
Bestseller No. 1
Logitech G502 HERO High Performance Wired Gaming Mouse, HERO 25K Sensor, 25,600 DPI, RGB, Adjustable Weights, 11 Programmable Buttons, On-Board Memory, PC / Mac, Black
Hero 25K sensor through a software update from G HUB, this upgrade is free to all players: Our most advanced, with 1:1 tracking, 400-plus ips, and 100 - 25,600 max dpi sensitivity plus zero smoothing, filtering, or acceleration
11 customizable buttons and onboard memory: Assign custom commands to the buttons and save up to five ready to play profiles directly to the mouse
Adjustable weight system: Arrange up to five removable 3.6 grams weights inside the mouse for personalized weight and balance tuning
Programmable RGB Lighting and Lightsync technology: Customize lighting from nearly 16.8 million colors to match your team's colors, sport your own or sync colors with other Logitech G gear
Mechanical switch button tensioning: Metal spring tensioning system and pivot hinges are built into left and right gaming mouse buttons for a crisp, clean click feel with rapid click feedback
Sale
Bestseller No. 2
Razer DeathAdder Essential Gaming Mouse: 6400 DPI Optical Sensor - 5 Programmable Buttons - Mechanical Switches - Rubber Side Grips - Classic Black
Gaming Peripherals Manufacturer in the US: Source - The NPD Group, Inc. U.S. Retail Tracking Service, Keyboards, Mice, PC Headset/Pc Microphone, Gaming Designed, based on dollar sales, 2017-2021
High-Precision 6,400 DPI Optical Sensor: Offers on-the-fly sensitivity adjustment through dedicated DPI buttons (reprogrammable) for gaming and creative work
Durable Mechanical Switches: Supports up to 10 million clicks, backed by a 2 year warranty
Ridged, Rubberized Scroll Wheel for Maximum Accuracy: Small, tactile bumps increases grip and allows for more controlled scrolling in high-stakes gaming situations
5 Programmable Buttons: Allows for button remapping and assignment of complex macro functions through Razer Synapse
Sale
Bestseller No. 3
Redragon M612 Predator RGB Gaming Mouse, 8000 DPI Wired Optical Gamer Mouse with 11 Programmable Buttons & 5 Backlit Modes, Software Supports DIY Keybinds Rapid Fire Button
Pentakill, 5 DPI Levels - Geared with 5 redefinable DPI levels (default as: 500/1000/2000/3000/4000), easy to switch between different game needs. Dedicated demand of DPI options between 500-8000 is also available to be processed by software.
Any Button is Reassignable - 11 programmable buttons are all editable with customizable tactical keybinds in whatever game or work you are engaging. 1 rapid fire + 2 side macro buttons offer you a better gaming and working experience.
Comfort Grip with Details - The skin-friendly frosted coating is the main comfort grip of the mouse surface, which offers you the most enjoyable fingerprints-free tactility. The left side equipped with ubber texture strengthen the friction and made the mouse easier to be controlled.
5 Decent Backlit Modes - Turn the backlit on and make some kills in your gaming battlefield. The hyped dynamic RGB backlit vibe will never let you down when decorating your gaming space, it would be better with other Redragon accessories with lights on.
Fatigue Killer with Ergonomic Design - Solid frame with a streamlined and general claw-grip design offers each gamer a satisfying and comfortable gaming experience with less fatigue even though after hours of use.
Sale
Bestseller No. 4
Redragon M908 Impact RGB LED MMO Gaming Mouse with 12 Side Buttons, Optical Wired Ergonomic Gamer Mouse with Max 12,400DPI, High Precision, 20 Programmable Macro Shortcuts, Comfort Grip
Professional Gaming Mouse - Redragon M908 optical gaming mouse is designed with up to 12400 DPI, 5 adjustable DPI levels (500/1000/2000/3000/6200 DPI) meet your multiple needs, either for daily work or gaming. DPI can be adjusted freely by ±100 from 100 to 12400 via software. 1000 Hz polling rate, 30G acceleration and high-precision Pixart PAW3327 Sensor giving you a greater edge over your competition.
RGB Backlight & Programmable Buttons - 16.8 million RGB LED color options (LED Backlight can be disabled). 18 programmable buttons, 5 memory profiles each with a dedicated light color for quick identification. Comes with 8-piece weight tuning set (2.4g x8), easy to change the weight to suit your games.
Comfort & Precision At Your Hands - Redragon M908 gaming mouse is an essential computer accessory for die-hard gamers with its aggressive design for hands! You will be amazed by the unmatched comfort, lethal accuracy and killer precision of our durable, desktop and laptop pro gaming mouse!
High-end Design - Redragon M908 Mouse features 8 buttons and 12 MMO programmable side buttons. Durable smooth TEFLON feet pads for ultimate gaming control. 6ft braided-fiber cable with gold-plated USB connector ensures greater durability.
Die-hard Gamers Choice - Whether you are targeting, aiming, slashing or attacking, a professional gaming mouse is your basic weapon! The mouse will be your ideal partner. Compatible with Windows 2000/ME/XP/03/VISTA/7/8/10 system for programmable using and Mac OS for normal using.
Sale
Bestseller No. 5
Logitech G305 LIGHTSPEED Wireless Gaming Mouse, Hero 12K Sensor, 12,000 DPI, Lightweight, 6 Programmable Buttons, 250h Battery Life, On-Board Memory, PC/Mac - Black
HERO Gaming Sensor: Next-gen HERO mouse sensor delivers up to 10x the power efficiency over other gaming mice with exceptional accuracy and responsiveness thanks to 400 IPS precision and up to 12000 DPI sensitivity
LIGHTSPEED Wireless: Ultra-fast LIGHTSPEED Wireless technology gives you a lag-free gaming experience. The G305 wireless gaming mouse delivers incredible responsiveness and reliability with a super-fast 1ms report rate for competition-level performance. Mechanical Button Tensioning System
Ultra-Long Battery Life: The G305 wireless Logitech mouse boasts an incredible 250 hours of continuous gameplay on a single AA battery so you can play at peak performance without worrying about running out of power
Lightweight design: Thanks to an efficient mechanical design, the G305 gaming mouse weighs in at only 99 grams for high manoeuvrability
Compact, portable design with convenient built-in storage for included USB wireless receiver. Max. speed: > 400 IPS
Sale
Bestseller No. 6
WEEMSBOX Wired Gaming Mouse, PC Gaming Mice [Breathing RGB LED] [Plug Play] High-Precision Adjustable 7200 DPI, 7 Programmable Buttons, Ergonomic Computer USB Mouse for Windows/PC/Mac/Laptop Gamer
[Charming Breath RGB Backligh]:16 million color options for the backlight setting make your gaming mouse look cool.The RGB lights is more vibrant than basic light up mice.Turn it off when you unwanted.
[High-Precision DPI & Polling Rateh]:gaming mouse run flawlessly with optical sensor and avoids random clicks.adjust DPI 1200-7200,polling rate125-1000Hz to provide precise cursor movements for gameplay.
[Seven Programmable Buttons]:Mouse have 7 buttons,can set for more functions like rapid fire,macro etc.Software is initial setup.side buttons are default as forward,backward for efficiency surfing.
[Ergonomic Design,Less Fatigue]:The ergonomic contour makes gaming mice fit in any hands.Texture of mouse is a super-fine rubber that feels comfortable and less your fatigue during multiplayer sessions.
[Plug & Play, Build Quality]:As a plug-and-play wired mouse,easy to use and work with Windows,Mac OS,etc.You can feel the solid construction of all buttons.They are responsive,won't squeak or get stuck.
Sale
Bestseller No. 7
Sale
Bestseller No. 8
Sale
Bestseller No. 9
Redragon Gaming Mouse, Wireless Mouse Gaming with RGB Backlit, 8000 DPI, PC Gaming Mice with Fire Button, Macro Editing Programmable Mouse Gamer,70Hrs for Windows/Mac, Rechargeable, Black, M910-KS
⚡️【Fully Programmable Gaming Mouse】-This wireless gaming mouse make it possible for you to remap the buttons, assignment of complex macro functions, change RGB backlit effects and speed, adjust DPI in a wide range(250-8000) to fit your different needs via redragon driver, It's a good choice for gaming and working.The gaming driver is compatible with windows only.
⚡️【Enhance Your Gaming Immersion】With 9 Adjustable RGB Backlit modes, you can adjust backlits effects via mouse or driver to create you fancy gaming environment and light up your game atmosphere.
⚡️【Born For Victory】 Never miss a gaming mouse that adopts Rapid Fire button ((1 Click=Triple Clicks) while you are gaming, it helps you beat your opponents quickly with just one click.
⚡️【High Precision Sensor】Features with 5 default DPI levels(500/1000/2000/ 3000/4000) and multiple adjustable DPI(250-8000) via driver, you can easily adjust the moving speed, and experience a smooth, fast response and accurate tracking gaming experience.
⚡️【Ultra Long Battery Life】The rechargeable wireless gaming mouse has a battery life between 35 hours (RGB on) and 70 hours (RGB off) on a single charge, provide you with non stopping using.it will auto sleep after 1 minute of inactively for power saving.The wireless mouse also can be used wired while charging.
Sale
Bestseller No. 10
Logitech G502 Lightspeed Wireless Gaming Mouse with Hero 25K Sensor, PowerPlay Compatible, Tunable Weights and Lightsync RGB - Black
Selling Wireless Gaming Gear Brand - Based on independent sales data (FEB '19 - FEB'20) of Wireless Gaming Keyboard, Mice, and PC Headset in units from: US, CA, CN, JP, KR, TW, TH, IN, DE, FR, RU, UK, SE, TR
PowerPlay wireless charging: Never worry about your battery life again. Add the power play wireless charging system to keep your G502 Lightspeed Wireless Mouse and other compatible G mice charged while at rest and at play. Powerplay wireless charging system sold separately
Light speed wireless gaming mouse: Exclusive Logitech G ultra-fast wireless technology used by Pro gamers in competitions worldwide
Hero 25K sensor through a software update from G HUB, this upgrade is free to all players: Our most advanced, with 1:1 tracking, 400plus ips, and 100 - 25,600 max dpi sensitivity plus zero smoothing, filtering, or acceleration
11 customizable buttons and hyper fast scroll wheel: Assign custom macro and shortcut commands to the buttons for each game with Logitech G hub software. Use hyper fast scrolling to rapidly review menus, long web pages and more
Solution 4: Toggle Between The Screen Mode In Fortnite
The full-screen mode is responsible for crashes in an intensive graphics-inducing game like Fortnite.
Try toggling between the Windowed mode and FULLSCREEN mode both when you experience a crash. Play with both of the modes for a while and figure out which one is the culprit.
Steps for the fix:
Double-click and open FORTNITE.
Go to Game Settings
Click on Video.
Toggle between the modes, select one, and save.
After changing to a particular mode, if you find the crash is no more appearing, leave the game to continue in the current mode. If you still see a crash, as I said, try your hands with a different mode.
Solution 5: Turn Off Timeout Detection And Recovery From The Windows Registry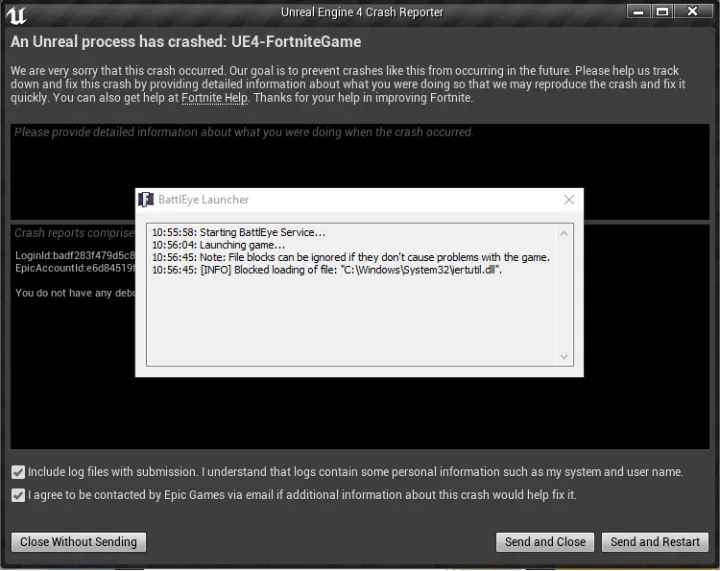 Registry edits are critical and leave no chances for errors because wrong edits can render your PC to boot loop or OS failures. 
The TDR level, or the "Time out detection and Recovery," is a feature needed for the smooth coordination of GPU and graphics card problems in the Windows OS. But this may create crashes related to Display Drivers for many users.
Steps for the fix:
Create a Windows Restore Point.
First, create a backup of your existing registry settings for safety.
Press Windows logo key + R 
Type Regedit on the dialogue box and hit Enter
Click File and export
It will ask you for a location to save the backup File. Click Save.
Close everything.
Then comes the most important step:
Press the Windows logo key + R 
, type Regedit, and press enter
Move to HKEY_LOCAL_MACHINE\SYSTEM\CurrentControlSet\Control\GraphicsDrivers
Find TdrLevel on the right pane, and select it.
Double-click TdrLevel and change the value to 0. Press OK.
Close everything and give your PC a clean restart.
Try playing Fortnite again.
Solution 6: Reinstall Fortnite
When you have tried every other step shared above, but nothing worked, the last option is to give Fortnite a clean uninstall and reinstall it.
Steps for the fix:
Open the Epic Games Launcher
Click UNINSTALL FORTNITE
Reboot your PC
Launch the Epic Games Launcher again
Install FORTNITE again
Try launching the game again
Sale
Bestseller No. 1
Redragon S101 Gaming Keyboard, M601 Mouse, RGB Backlit Gaming Keyboard, Programmable Backlit Gaming Mouse, Value Combo Set [New Version]
PC GAMING KEYBOARD AND GAMING MOUSE COMBO: Includes Redragon RGB Backlit Computer Gaming Keyboard and RGB Backlit Gaming Mouse. ALL-IN-ONE PC GAMER VALUE KIT, Fantastic for Gamers (New Improved Version)
RGB BACKLIT GAMING KEYBOARD; 7 different RGB Lighting modes & effects, 4 backlight brightness levels, adjustable breathing speed. The keycaps offering clear uniform backlighting WIN key can be disabled for gaming. The PC Gaming Keyboard has been ergonomically designed to be a superb typing tool for office work as well. The gaming Keyboard is built to withstand the average liquid spill. The integrated wrist rest gives you the comfort you need for marathon gaming sessions
MULTI MEDIA & ANTI GHOSTING; The Gaming Keyboard has 25 conflict free (n-Key Rollover) 10 Dedicated Multimedia keys plus 12 additional FN+ Multimedia keys (Total 114 keys). Keys are quiet, designed for longevity, durability delivering precise tactile feedback. Comes with Full numeric keypad and a gold-plated corrosion free USB connector for a reliable connection and ultimate Gaming performance
WIRED GAMING MOUSE; Ergonomic Redragon RED Backlit Gaming Mouse up to 3200 DPI (user adjustable 800/1600/2400/3200 DPI), 30G acceleration and Weight Tuning set. Total 6 Buttons of which 5 are programmable. The High-Precision Sensor delivers Pinpoint Accuracy while the Gaming Grade Micro Switches ensure longevity, greater durability and extreme responsiveness, giving you an even greater edge over your competition
PC GAMING KEYBOARD AND GAMING MOUSE COMPATIBILITY: Windows 10, Windows 8, Windows 7, Windows Vista, or Windows XP, Limited Mac OS keyboard support. Works well with all major Computers Brands and Gaming PCs.
Sale
Bestseller No. 2
SteelSeries Apex 3 TKL RGB Gaming Keyboard – Tenkeyless Compact Form Factor - 8-Zone RGB Illumination – IP32 Water & Dust Resistant – Whisper Quiet Gaming Switch – Gaming Grade Anti-Ghosting,Black
The compact tenkeyless design is the most popular form factor used by the pros, allowing you to position the keyboard for comfort and to maximize in-game performance.
Our whisper quiet gaming switches with anti-ghosting technology for keystroke accuracy are made from durable low friction material for near silent use and guaranteed performance for over 20 million keypresses.
Designed with IP32 Water & Dust Resistant for extra durability to prevent damage from liquids and dust particles, so you can continue to play no matter what happens to your keyboard.
PrismSync RGB Illumination allows you to choose from millions of colors and effects from reactive lighting to interactive lightshows that bring RGB to the next level.
Dedicated Multimedia Controls with a clickable volume roller and media keys allowing you to adjust brightness, rewind, skip or pause all at the touch of a button.
Sale
Bestseller No. 3
MageGee 75% Mechanical Gaming Keyboard with Blue Switch, LED Blue Backlit Keyboard, 87 Keys Compact TKL Wired Computer Keyboard for Windows Laptop PC Gamer - Blue/White
[Mechanical blue switch]: pressing the switch makes loud click sound, crisp paragraph feeling, excellent input feeling, strong mechanical feeling and long service life, providing precise tactile feedback for gaming and typing.
[Classic charming blue LED backlight]: customize multiple illuminated light effects with static and dynamic, supports about 20 kinds backlight modes, press Fn + Ins/ Home/ PgUp/ Del/ End/ PgDn/ ScrLK to switch , FN + ↑ / ↓ control backlight brightness, FN + -_ / =+ control backlight speed.
[Full anti-ghosting keyboard]: all 87 keys are no conflict, allow multiple keys to work simultaneously with high speed for a reliable connection, have 12 multimedia keyboard, great for gamer, typist, programmer, writer etc.
[Ergonomic mechanical keyboards]: stylish blue white mash up 75% layout, come with extra 16 purple keycaps, double-shot injection non-slip suspension keycap, splash-proof design, durable metal panel enough to protect it from scratch, also firm kickstand feet adjustable typing angle.
[Extensive Compatibility]: MageGee MK-Star mechanical keyboards use USB 2.0 connector making it compatible with Windows (2000, XP, ME, Vista, 7, 8), Linux and Mac, plug and play, no drivers or software required.
Sale
Bestseller No. 4
MageGee Portable 60% Mechanical Gaming Keyboard, MK-Box LED Backlit Compact 68 Keys Mini Wired Office Keyboard with Red Switch for Windows Laptop PC Mac - Black/Grey
Mini portable 60% compact layout: MK-Box is a 68 keys mechanical keyboard have cute small size, separate arrow keys and all your F-keys you need, can use it for gaming or work while saving space.
Mechanical red switch: characterized for being linear and smoother, slight key sound has no paragraph sense with minimal resistance, but fast action without a tactile bump feel which makes it easier to tap the keyboard.
Classic charming blue LED backlit: Customize multiple illuminated LED light effects, supports about 15 backlight modes, press Fn + Ins can control it, FN + ←/→ control backlight speed, FN + ↑/↓ control backlight brightness.
Full anti-ghosting keyboard: all 68 keys are no conflict, black grey red mash up design, ergonomic suspension double-color injection keycap, double kickstand feet adjustable typing angle and detachable usb cable, both practical and beautiful.
Extensive compatibility: MageGee MK-Box mechanical keyboards use USB 2.0 connector making it compatible with Windows (2000, XP, ME, Vista, 7, 8), Linux and Mac, plug and play, no drivers or software required.
Bestseller No. 5
Womier 60% Percent Keyboard, WK61 Mechanical RGB Wired Gaming Keyboard, Hot-Swappable Keyboard Blue Sea Theme with PBT Keycaps for Windows PC Gamers - Red Switch
【Sea Theme 60% Keyboard】: The theme style makes this 60% keyboard more unique. The matte translucent bottom cover will give your keyboard an incredibly smooth and clean feeling when RGB is turned off. When RGB is turned on, the frosted wall brings out the brilliance of RGB in all directions.
【 Plate & Switch 2 in 1 Silicone Pad (Newly Added) 】The gaming keyboard has added the latest 2in1 Silicone Pad, which provides a richer operating space for keyboard DIY enthusiasts. Pad can maximally absorb hollow sound and provide extra stable typing feeling.
【DIY Mini Keyboard】:Womier WK61 Mechanical keyboard come with 3 pcs sublimation keycaps that can be replaceable, You can freely match the colors you like. So that you can DIY and do whatever you want. In the hearts of players, WK61 is the most cost-effective DIY 60% mechanical keyboard. Meet your needs for custom keyboards.
【Hot-Swappable Custom Keyboard】: Quiet red mechanical switch, linear and soft key travel makes every click easy to register. Made to last with switches rated for 50 million keypresses. Type-C USB Cable, High Speed Transmission,More stable transmission. The keyboard is compatible with PC, PS4, Xbox Series X|S, and Xbox One so you can have one keyboard for both PC and console gaming.
【RGB Rainbow Backlit & Macro】: With the WOMIER progarmmable software, you can define your own keyboard through seting up millions of backlit colors and macro keys, WK61 led gaming keyboard bring more color to your desktop setup and add more fun to your gaming and working.
Sale
Bestseller No. 6
Razer Ornata V3 X Gaming Keyboard: Low-Profile Keys - Silent Membrane Switches - Spill Resistant - Chroma RGB Lighting - Ergonomic Wrist Rest - Classic Black
Low-Profile Keys: With slimmer keycaps and shorter switches, enjoy natural hand positioning that allows for long hours of use with little strain
Silent Membrane Switches: Perfect for those who prefer a quieter, more comfortable experience when gaming or typing
Ergonomic Wrist Rest: Aligns to the keyboard and provides the perfect place to rest your wrists for support that's vital during long periods of use
Durable, Spill-resistant Design: Sturdy build is tanky enough for those intense gaming sessions and can shrug off the effects of minor spills
Cable Routing Options: Grooves to neatly tuck in the cable and feed it out in any direction, so you can keep your desktop clear of clutter and mess
Sale
Bestseller No. 7
Snpurdiri 60% Wired Gaming Keyboard, 61 Keys RGB Backlit Wrist Rest Ultra-Compact Mini Waterproof Keyboard for PC Computer Gamer (White)
【Classic 60% Compact Design】This 60% gaming keyboard has a perfect size and it's good for Home and Office use, without Numpad, more practical for Gamers and Typist, give more space to your desktop. Note: It's small. Please judge the size before placing an order.
【Ergonomic Design and Mechanical Feel】The mini membrane gaming keyboard key height is designed according to ergonomics,and it is not easy to fatigue after long-term use. Using advanced imitation mechanical technology, one of the attractive features is the mechanical feeling.
【Cool RGB Backlit Effect】The 60% rgb keyboard include 6 backlight effects and 8 backlight color switching. There are normal light/wave/horse riding/breathing mode for choice, and 5 levels of brightness and speed for control. The white keyboard is mixed various lights, which looks graceful and luxurious, especially the ice blue light.Now,Key cap upgraded to double - color injection molding, character transparent luminous.
【High Quality and Reliable Performance】UV coated keycaps and injection laser carving ABS keycaps design, the letter of characters never fade.High quality durable ABS material, portable film keys and switches. No need to drive, plug and play directly, sensitive response.
【Widely Compatible &Easy to Use】This 60% keyboard is compatible with Windows 10, Win 8, Win 7, Win Vista, Windows XP and Mac OS,etc. Adapted for all environnement, business travel games office home use ,a small form factor for tiny spaces. Please refer to the instruction manual for specific key operation.
Sale
Bestseller No. 8
Dacoity Gaming Keyboard, 104 Keys All-Metal Panel, Rainbow LED Backlit Quiet Computer Keyboard, Wrist Rest, Multimedia Keys, Anti-ghosting Keys, Waterproof Light Up USB Wired Keyboard for PC Mac Xbox
💎【Rainbow Backlit Light Up Keyboard】There are 2 illumination modes and 3 brightness levels to choose from. ☼: Static backlight/off; FN+☼: Dynamic backlight. Fn+PgUp: Increase brightness; Fn+PgDn: Decrease brightness. FN+ /-: Adjust the speed of dynamic backlight. (𝐍𝐨𝐭𝐞: 𝐎𝐧𝐥𝐲 𝐫𝐚𝐢𝐧𝐛𝐨𝐰 𝐛𝐚𝐜𝐤𝐥𝐢𝐠𝐡𝐭 𝐚𝐯𝐚𝐢𝐥𝐚𝐛𝐥𝐞, 𝐜𝐚𝐧𝐧𝐨𝐭 𝐛𝐞 𝐚𝐝𝐣𝐮𝐬𝐭𝐞𝐝 𝐭𝐨 𝐬𝐢𝐧𝐠𝐥𝐞-𝐜𝐨𝐥𝐨𝐫 𝐥𝐢𝐠𝐡𝐭).
💎【Ergonomic Design with Wrist Rest】This silent keyboard features a scientific stepped keycap design, maximizing hand comfort during extended gaming or work sessions. It also provides an ergonomic typing angle (7°) and wrist support. All keys offer a soft touch, without loud clicking noises, allowing for late-night typing or gaming without disturbing others.
💎【Premium Metal Panel Keyboard】This rainbow backlit keyboard features a matte metal panel, enhancing both the overall tactile sensation of the keyboard and its durability and water resistance. Additionally, there are four drainage holes at the bottom of the LED keyboard to prevent any damage from liquid spills to the computer keyboard.
💎【Multimedia & Anti-Ghosting】With 12 multimedia keys, enhance your gaming operations or work efficiency. The 19 anti-ghosting keys ensure that every keystroke is registered without any loss, ensuring smooth typing. You can swap the WSAD keys with the arrow keys by pressing FN+W and lock/unlock the WIN key by pressing N+WIN. (𝐍𝐨𝐭𝐞: 𝐌𝐮𝐥𝐭𝐢𝐦𝐞𝐝𝐢𝐚 𝐤𝐞𝐲𝐬 𝐚𝐫𝐞 𝐧𝐨𝐭 𝐚𝐯𝐚𝐢𝐥𝐚𝐛𝐥𝐞 𝐨𝐧 𝐌𝐚𝐜).
💎【Strong Compatibility & Quality Assurance】This rainbow keyboard features a classic volcano switch structure, capable of enduring 50 million keystrokes. The UV coating ensures legends that are more fade-resistant. Detachable keycaps allow for quick cleaning, without worrying about dust. It supports plug-and-play functionality and boasts wide compatibility with Windows 95/98/XP/2000/ME/VISTA/7/8/9/10, as well as Mac.
Bestseller No. 9
Corsair K55 PRO LITE RGB Wired Membrane Gaming Keyboard (5-Zone Dynamic RGB Backlighting, Six Macro Keys with Stream Deck Integration, IP42 Dust and Spill Resistant, Dedicated Media Keys) Black
Dynamic RGB Backlighting: Light up your desktop with six onboard lighting effects, assign a color to each lighting zone, or program your own vibrant lighting effects across five RGB lighting zones with CORSAIR iCUE software.
Six Dedicated Macro Keys: Activate functions, shortcuts, or keypresses in just one stroke with six dedicated macro keys, easily set up through CORSAIR iCUE software, or use instant streaming commands through Elgato Stream Deck software.
Dust and Spill-Resistant Design: IP42-rated protection guards against accidents so your gameplay never has to stop.
Dedicated Volume and Media Keys: Convenient control for media playback and fine-tuning volume on-the-fly without having to interrupt your game.
Quiet and Responsive Keys: For comfortable typing during both work and play, with a tactile bump for responsive gaming performance.
Sale
Bestseller No. 10
Razer Cynosa V2 Gaming Keyboard: Customizable Chroma RGB Lighting - Individually Backlit Keys - Spill-Resistant Design - Programmable Macro Functionality - Dedicated Media Keys
The NPD Group, U.S. Retail Tracking Service, Gaming Designed: Keyboards, Mice, PC Headsets, and PC Microphones, Based on dollar sales, Jan. 2017- June 2020 combined.
All-Around Gaming Performance: Able to execute up to ten commands at the same time with built-in key rollover anti-ghosting
Ultimate Personalization & Gaming Immersion with Razer Chroma: Fully syncs with popular games, Razer hardware, Philips Hue, and gear from 30 plus partners; supports 16.8 million colors on individually backlit keys
Spill-Resistant Design: Built to withstand most accidental liquid splashes
Fully Programmable Macros: Razer Hypershift allows for all keys and keypress combinations to be remapped to execute complex commands
Final words
When you are unable to play Fortnite, and it is crashing heavily, instead of worrying over the GPU specs, you always troubleshoot the settings and configurations and update notifications. 
Though graphic hardware plays a significant role in a glitch-free, smooth gaming experience, misconfigured settings and errors in the installation files create more crashing issues than any other. The above-shared methods would help you play Fortnite worry-free; try them one-by-one till your crashes disappear entirely.